Ages of Anxiety: Jung's Types as Inspiration for Poetry, Music and Dance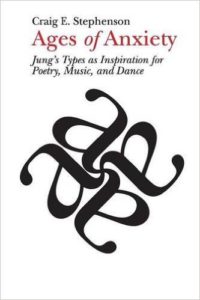 This 2015 Zurich Lecture Series draws on depth psychology to provide an original and profound study of W. H. Auden's Pulitzer Prize winning poem, The Age of Anxiety. In this dramatic poem, Auden draws on Jung's psychological typology to explore and develop the themes of identity and integrity in times of war.  The first chapters outline Auden's use of Jung's critical psychology of type to understand the traumatic effects of war on the individual and collective psyche, as well as the noxious attractions of fascism. In this light,  the third chapter examines Leonard Bernstein's symphony, The Age of Anxiety (Symphony No. 2 for Piano and Orchestra), inspired by Auden's poem, and three ballets based on Bernstein's music, choreographed by Jerome Robbins (New York City Ballet), John Neumeier (Hamburg Ballet), and Liam Scarlett (Royal Ballet, London).
Using all these creative works as points for reflection, the closing chapter surveys historically the concept of "anxiety," from Kierkegaard through five editions of the American Psychiatric Association's Diagnostic and Statistical Manual of Mental Disorders (DSM). It  interweaves Auden's exploration of the twentieth-century mind with Jungian depth psychology and  extrapolates forward into our time, with its mounting political tensions and escalating intolerance, inquiring into the sufferings currently diagnosed as "anxiety" and their significance.
 https://www.amazon.com/Ages-Anxiety-Jungs-Inspiration-Poetry/dp/1935528750/ref=asap_bc?ie=UTF8
Anteros: A Forgotten Myth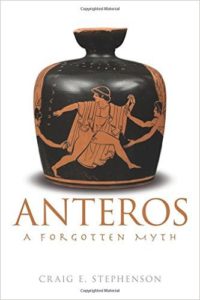 Anteros: A Forgotten Myth explores how the myth of Anteros disappears and reappears throughout the centuries, from classical Athens to the present day, and looks at how the myth challenges the work of Freud, Lacan, and Jung, among others. It examines the successive cultural experiences that formed and inform the myth and also how the myth sheds light on individual human experience and the psychoanalytic process.
Topics of discussion include Anteros in the Italian Renaissance, the French Enlightenment and English Modernism; psychologizing Anteros with reference to Freud, Lacan, Girard and Jung; and three anterotic moments in a consulting room.
This book presents an important argument at the boundaries of the disciplines of analytical psychology, psychoanalysis, art history, and mythology. It will of interest to analytical psychologists and psychoanalysts as well as art historians and those with an interest in the meeting of psychoanalytic thought and mythology.
https://www.amazon.com/Anteros-Forgotten-Craig-E-Stephenson/dp/0415572312/ref=asap_bc?ie=UTF8
Jung and Moreno: Essays on the Theatre of Human Nature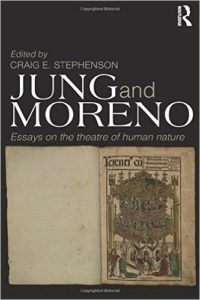 To  many, Jung and Moreno seem to be on opposite sides in their theories and their practices of psychotherapy. Jung defines self as emerging inwardly in an intrapsychic process of individuation; Moreno defines self as enacted outwardly in psychosocial networks of relationships. Jung and Moreno shows how Jung and Moreno can be creatively combined to understand better and facilitate therapeutic work.
The contributors write about how and why they put together Jung and Moreno. They describe and discuss psychodrama sessions grounded in the fundamentals of Jung's analytical psychology, as well as dream and fairy tale enactments and individual psychoanalytical sessions in which they employ psychodramatic techniques. The essays retheorize Jungian concepts of transference and complexes in the light of Moreno's insights. They reframe and deepen traditional psychodramatic techniques by securing them within Jung's archetypal context.
Jung and Moreno challenges our understanding of healing practices and the integration of spontaneous unconscious processes, bringing these two ground-breaking practitioners to meet collaboratively in the theatre of human nature. The contributions are original and insightful arguments by nine important thinkers. This book will be of interest to psychotherapists, analytical psychologists, psychoanalysts, psychodrama practitioners, drama therapists and students.
https://www.amazon.com/Jung-Moreno-Essays-theatre-nature-ebook/dp/B00E1EMWUM/ref=asap_bc?ie=UTF8
On Psychological and Visionary Art: Notes from C. G. Jung's Lecture on Gérard de Nerval's Aurélia.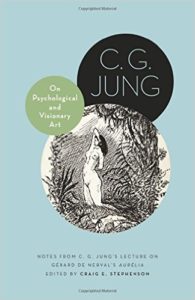 In 1945, at the end of the Second World War and after a long illness, C. G. Jung delivered a lecture in Zürich on the French Romantic poet Gérard de Nerval. The lecture focused on Nerval's visionary memoir, Aurélia, which the poet wrote in an ambivalent attempt to emerge from madness. Published here for the first time, Jung's lecture is both a cautionary psychological tale and a validation of Nerval's visionary experience as a genuine encounter.
Nerval explored the irrational with lucidity and exquisite craft. He privileged the subjective imagination as a way of fathoming the divine to reconnect with what the Romantics called the life principle. During the years of his greatest creativity, he suffered from madness and was institutionalized eight times. Contrasting an orthodox psychoanalytic interpretation with his own synthetic approach to the unconscious, Jung explains why Nerval was unable to make use of his visionary experiences in his own life. At the same time, Jung emphasizes the validity of Nerval's visions, differentiating the psychology of a work of art from the psychology of the artist. The lecture suggests how Jung's own experiments with active imagination influenced his reading of Nerval's Aurélia as a parallel text to his own Red Book.
With  an authoritative introduction by the editor, Richard Sieburth's award-winning translation of Aurélia, and Alfred Kubin's haunting illustrations to the text, and featuring Jung's reading marginalia, preliminary notes, and revisions to a 1942 lecture, On Psychological and Visionary Art documents the stages of Jung's creative process as he responds to an essential Romantic text.
https://www.amazon.com/Psychological-Visionary-Art-Philemon-Foundation/dp/0691162476/ref=asap_bc?ie=UTF8
Possession: Jung's Comparative Anatomy of the Psyche (revised edition)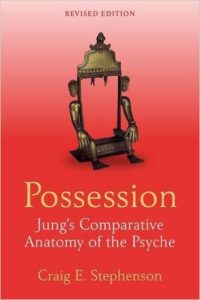 The first edition of this illuminating study, addressed both to readers new to Jung and to those already familiar with his work, offered fresh insights into a fundamental concept of analytical psychology. This revised edition has been fully updated to reflect the publication of the DSM-5.
The book anatomizes Jung's concept of possession, reinvesting Jungian psychotherapy with its positive potential for practice. Analogizing the concept – lining it up comparatively beside the history of religion, anthropology, psychiatry, and even drama and film criticism – offers not a naive syncretism, but enlightening possibilities along the borders of these diverse disciplines.
An original, wide-ranging exploration of phenomena both ancient and modern, Possession offers a conceptual bridge between psychology and anthropology, challenges psychiatry to culturally contextualize its diagnostic manual, and posits a much more fluid, pluralistic and embodied notion of selfhood. It will prove essential reading for Jungian psychotherapists, analytical and depth psychologists and psychiatrists as well as academics and students of anthropology, mythology and religious studies.
https://www.amazon.com/Possession-Jungs-Comparative-Anatomy-Psyche/dp/1138856053/ref=asap_bc?ie=UTF8
Jungian Perspectives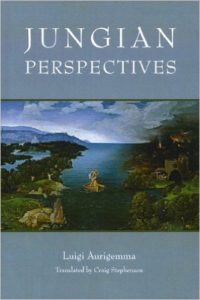 The first appearance of renowned Jungian Luigi Aurigemma's works translated into English, Jungian Perspectives explores the timeless questions that have long fascinated psychologists. Aurigemma's writings echo man's search for meaning and for understanding in a world limited by the human condition. This far-reaching overview of Jung's work includes discussions of suffering and evil, sublimation, dreams and visions, the spiritual dimension, death, and the mystical experience of the Void.
https://www.amazon.com/Jungian-Perspectives-Luigi-Aurigemma/dp/1589661672/ref=asap_bc?ie=UTF8